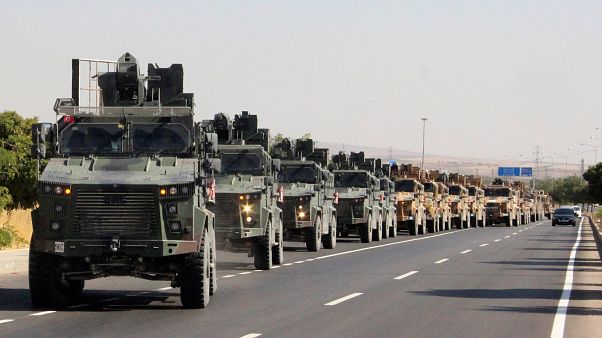 A Turkish miltary convoy is pictured in Kilis near the Turkish-Syrian border -CopyrightReuters
Turkey has launched a military operation into northeastern Syria, in what it says is an offensive aimed at eliminating a "terror corridor" along the southern Turkish border.
The EU Commission has condemned the action, along with a number of other countries.
The offensive comes after Donald Trump ordered the withdrawal of US troops from the area, a move widely criticised as allowing Kurdish forces – who have been instrumental in the defeat of so-called Islamic State (ISIS) – to be abandoned by their ally, the USA.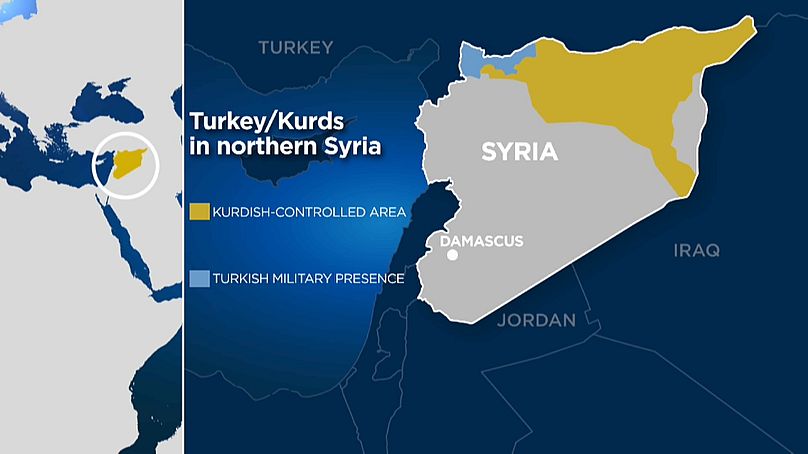 Reports of casualties
Explosions have been reported in the town of Ras al Ain in northeast Syria, on the border with Turkey.
A witness in the Syrian town of Tel Abyad told Reuters that sounds of explosions rang out and smoke was rising nearby along the border with Turkey, as people fled the town en masse.
The Turkish state-owned Anadolu news agency reported that rockets fired from Syria's Qamishli had landed in the centre of the Turkish border town of Nusaybin.
The Syrian Democratic Forces (SDF) have called for a no-fly zone to "stop attacks on innocent people", adding on Twitter that Turkish jets have bombed military positions and civilian villagers, leading to reports of casualties.
Turkey's aim in Syria
Turkish President Recep Tayyip Erdogan said the offensive, dubbed "Operation Peace Spring", would aim to eliminate threats from the Syrian Kurdish YPG militia and the Islamic State militants and enable the return of Syrian refugees in Turkey after the formation of a "safe zone" in the area.
"Our mission is to prevent the creation of a terror corridor across our southern border, and to bring peace to the area," Erdogan said on Twitter. "We will preserve Syria's territorial integrity and liberate local communities from terrorists."
The SDF is led by the YPG, a Kurdish militia group deemed a terrorist organisation by Turkey, due to their ties to militants waging an insurgency inside Turkey.
More: Why does Turkey want an offensive again Syria's Kurds and how is the US involved?
Calls for UN Security Council meeting
European Commission President Jean-Claude Juncker said Turkey must end its offensive, warning no European funding would be granted for a "security zone".
"Turkey must cease the ongoing military operation. It will not work. And if Turkey's plan is to create a security zone, do not expect funding from the European Union," he told the European Parliament in Brussels.
France's European affairs minister said that France, Britain and Germany had called for the United Nations Security Council to meet to discuss the Turkish offensive.
Speaking to the parliamentary foreign affairs committee, French EU envoy Amelie de Montchalin said that the three countries were also finalising a joint statement to "strongly condemn" the Turkish offensive, but said a separate EU statement had yet to be agreed because some countries had not signed up to it.
Dutch Foreign Minister Stef Blok said he had summoned the Turkish ambassador after Ankara launched a military incursion into Syria.
"The Netherlands condemns the Turkish offensive in northeast Syria," Blok said in a statement. "We call on Turkey not to continue on the path they are going down."
Turkey's military operation in northeastern Syria must be restrained, NATO Secretary General Jens Stoltenberg said on Wednesday, adding that it was important not to destabilise the region any further.
Stoltenberg said that Turkey had "legitimate security concerns" and had informed NATO about its attack against Kurdish fighters in Syria.
"I count on Turkey to act with restraint and ensure that any action it may take in northern Syria is proportionate and measured," he said after meeting Italian Prime Minister Giuseppe Conte. "It is important to avoid actions that may further destabilise the region, escalate tensions and cause more human suffering."
The United Nations Security Council will meet on Syria behind closed doors on Thursday, diplomats said.
The Turkish Foreign Minister, Mevlüt Çavuşoğlu, said that Turkey sent a diplomatic note to the Syrian consulate in Istanbul to inform them of the operation in northern Syria, Reuters reported.
Cavusoglu said Turkey's operation was based on its rights related to international law and added that Ankara had informed all the necessary actors, including the United Nations and NATO.
Egypt called for an emergency meeting of the League of Arab States over Turkey's offensive into Syria, the Egyptian foreign ministry said.
"Egypt condemned in the strongest terms the Turkish aggression on Syrian territory," the ministry said in a statement, adding that the offensive "represents a blatant and unacceptable attack on the sovereignty of a brotherly Arab state."
How Donald Trump paved the way for Turkey's offensive
Turkey had been poised to advance into northeast Syria since US troops began vacating the area in an abrupt policy shift by Donald Trump, widely criticised in Washington even by some of the President's Republican supporters.
Nikki Haley, former US ambassador to the United Nations, warned that his decision meant leaving US allies in the region "to die".
Following the widespread criticism to withdraw troops, Trump took to Twitter to warn Erdogan he would "obliterate" Turkey's economy if it did anything he, "in my great and unmatched wisdom", considered to be "off-limits".
Meanwhile, a leading Republican senator, usually a vocal ally of Trump, said he plans to introduce a package of "devastating" sanctions to hit Turkey over its military operation, expressing concerns over the fate of Kurds in the area.
Senator Lindsey Graham has repeatedly criticized Trump's decision to withdraw US troops from northeastern Syria.
Graham told media outlet Axios in an interview published on Wednesday that the sanctions would strike the Turkish economy and military.
World powers fear Turkey's invasion could open a new chapter in Syria's war and worsen regional turmoil.
In the build-up to the expected offensive, Syria had said it was determined to confront any Turkish aggression by all legitimate means.